Dear Friends and Family,
As the year 2011 draws to a close, with a fresh new year waiting on the horizon, we reflect on all that has come and gone – the good times and the hard ones too, opportunities for growth and renewal, and stretching, testing times.
Blessings abound. 
Every which way we turn we see the marvelous, active hand of God – orchestrating, conducting, healing, guiding. In all things He is loving, gracious and ever kind.
We look ahead with anticipation – expectation – of what is to come. Wondering what surprises this new year has for us. But before we dive head first, heart and soul into 2012, we want to take some time to bring closure to 2011.
What lessons have we learned that we will bring with us into 2012? What promises have we seen come to fulfillment that will add to our faith and hope for the new year? How are we different now than we were a year ago? How did we handle the challenges we faced this year – did we embrace them as a time for personal growth or shrink back in fear and discouragement? And how can we improve?
It's often through times of reflection and introspection that the things we've learned sink down and take root in our lives. And without it, these hard earned treasures of knowledge and truth, gained in the squeezing, testing times, can be swept away. Pausing to reflect, ponder and give thanks gives roots to what we've gained this year, so we can watch what we've learned begin to grow and take shape in our lives and character in the years that follow.
Our goal in all things is simple, really. We just want to be more like Jesus.
2011 ~ The Year in Review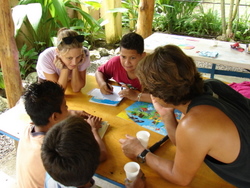 If we could sum up the year with a phrase it would be this, "Good Things Come to Those Who Wait." Very, very good things. And "Dreams Really Do Come True!"
We started out the year with a trip to Tijuana, Mexico to teach in the Children at Risk School. While there we spent several weeks in California visiting friends and family. (JOY!)
We arrived back in Costa Rica and were blessed with a three week visit from the Women and Children's Advocacy Centre (WCAC). And when we say blessed we mean tears-falling-down-your-cheeks, heart-filled-with-new-hope, lives-with-fresh-vision, encouraged, supported, loved and understood kind of blessed! By the time they left we had a proposal written for a project we wanted to start and we were ready to present it to the board of the former Christian Surfers' Property.
And then the process began. 
It was harder than we thought, but God has purposes in all things, even though we can't always see it at the time and we feel confused and discouraged. His ways are not our ways! They are so high above, sometimes we just have to hold on tight and go along for the ride.
By April we had two interns from the Tijuana Children at Risk School and were ready to start work on the property that is now called "La Ola."
This is where the joy starts coming in strong. 
As we shaped the children's program and set our goals for what we hoped to accomplish we quickly began to see that THIS IS REALLY FUN! And it's something our whole family can be a part of. In fact we relied heavily on input from Kai, our 8 year old son, and used a lot of his ideas to start with. Who better to know what kids want and need than a kid, right?
We learned pretty early on in this missionary journey that building relationships is the best part of ministry. Though it might take longer and it's harder to measure results, it's where you see the most fruit and lasting change. We remember the very wise words of our dear friend Janna Moats, "Jesus does not call us to start ministries, he calls us to relationship with people." And so, we designed a relational ministry, where the primary goal of all we do is build relationships.
So much joy to be found down this path. We can close our eyes at night and see the faces of these children. Our hearts have never felt so full. We've never found such joy in anything we've ever done before.
Yes, we were definitely on the right track. Things were starting to flow and settle into a steady rhythm. We had to pinch ourselves sometimes just to remember that this wasn't all some amazing dream.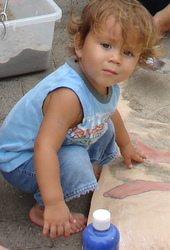 That is, until July 25. That's the day our world got shaken and turned upside down. Everything seemed to shatter to pieces around us. That was the day Koa died and was brought back to life. Many encouraged us to rejoice at the miracle God did but somehow our emotions didn't follow that advice. Instead we were broken and tormented by flash-backs of that traumatic day. It took much longer than you would expect to recover and return to some sense of normalcy.
But again, we see His hand. He's never content to leave us where we are. He works to redeem what the enemy intends for evil – to work all things together for good. And so, even in the recovery from this trauma His purposes began to take shape.
He put his magnifying glass on our marriage relationship. He wants us to experience something deeper, He wants us to face things we've been avoiding. He wants to use this arena of family, children and marriage to shape us to be more like Him.
Oh, it's painful. It's hard. It's not easy. But when we see glimpses of the kind of love He has in mind, it is worth every excruciating, tear-soaked moment.
And so, this is where we are as 2011 is ending. It will be marked forever as the year our dreams came true and we almost lost it all. The year we began an amazing work on an amazing property but God knew we needed a much greater depth of character, a greater capacity for love and a more unified family unit if we were going to see His purposes come to pass in this town and through this project.
Because this type of work takes everything you've got. There's no clock-in, clock-out. When your goal is relationship you are "on" 24-7. It's all about living and being the type of person that points people to Jesus – in all that you do, to be a reflection of Him, an example of His love. And these children – this town – so desperately needs this love.
So we won't give up. We'll press on even when it's hard and surely 2012 will be a year beyond what we can even imagine.
Thanks for reading and reflecting on the year with us. We hope you get a chance to do the same and we hope you'll share with us some of your highs and lows, too.
Because behind the scenes in this whole story is another character – YOU. Your prayers, encouragement, and financial support upheld us through the hard ties, battled for us in the dark times, and without you none of the amazing things (lives touched, children reached, project started, etc.) would have happened either. You are so very  much a part of this and we don't even know how to begin to express our thankfulness. We're undeserving. We're humbled. We don't tell you enough personally and individually how much you mean to us.
So Merry Christmas, Happy New Year and all that good stuff!
We love you so very much.
From our hearts,
Scott, Leslie, Kai, Ezra, Jude and (as the kids here call him), "El Milagro" – The Miracle, Koa